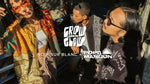 Grow & Glow - Noir Sur Blanc x Popomangun
"
Grow
&
Glow
" - A new collaboration campaign from local artist Popomangun & brand Noir Sur Blanc
A mantra Popomangun concoct, inspired from Noir Sur Blanc's Identity.
In this campaign, we hope to convey the feeling of growth Noir Sur Blanc had experienced over the years, embracing change to produce something new & fresh through the uniqueness of Popomangun's visual design and his signature art style.
Popomangun remodel Noir Sur Blanc's Flora icon with his signature pattern style & characteristic while taking heavy inspiration from an individual's drive to "Grow" through each passing stages of life with a goal to "Glow".
To celebrate the collaboration, Noir Sur Blanc & Popomangun will be holding a public event in which visitors can enjoy art installations designed by Popomangun himself accompanied by a showcase of our newest collection, as well as a glimpse behind the design process.